EJH-28 DIGITAL ATUO-CONVEYING ALL-METAL DETECTOR
   
 Introduction
   Advanced technique of electrical & mechanism designs is adopted for EJH series digital intelligent auto-conveying metal detector which have reasonable structure, beautiful appearance, highly detection sensitivity and stable behaviors. It is characterized by high detecting sensitivity and stable & reliable performance.
Comparing with traditional simulation detector , the function is more complete , the capability is more stable and dependable. It accord with the demand of certification-HACCP, QS, ISO9001, FDA.
Feature
LCD display, DSP digital signal processing technology, OSD menu in Chinese and English

Recording and memory function: able to store up to 20 kinds of different products.

Dual- channel and dual-frequency detecting to detect Fe and non-ferrous metals like stainless steel respectively.

360 degree phase identifying technology adopted to decrease product effect and improve sensitivity in non-ferrous metal detecting.

With high stability: no alarm even being hammered.

The Food industry conveys belt confirms to FDA standard and can be used to convey unpacked food directly.

Can be integrated into production line or automatic equipment.
Way of alarming: sound and light alarm, stop running automatically.
Performance
Detection style: digital intelligent with LCD display
Language : English,
Motor power: 200w/400w
The main material: SUS 304
Speed of transmission: 18-40 meter/minute
height of inspection window(cm):10
width of inspection window(cm):40
Highest Sensitivity: Ferrous 0.5mm diameter ball
                Non-ferrous:1.0mm diameter ball
                SUS: 1.2 mm diameter ball
Alarm: Audible and visual with automatic stop can install with the auto-rejection equipment according customer's requirement.
Power: AC110V/220V/380V 50/60Hz.
Table of Sensitivity
 

25*8cm

30*10cm

40*15cm

50*20cm

60*30cm

FE

≥

0.5mm

≥

0.8mm

≥

0.8mm

≥

1.0mm

≥

1.5mm

SUS

≥

1.2mm

≥

1.5mm

≥

2.0mm

≥

2.5mm

≥

3.0mm
Remark: the above data is empty machine sensitivity. The real sensitivity will be lower on condition of different products being tested.
Product Photo: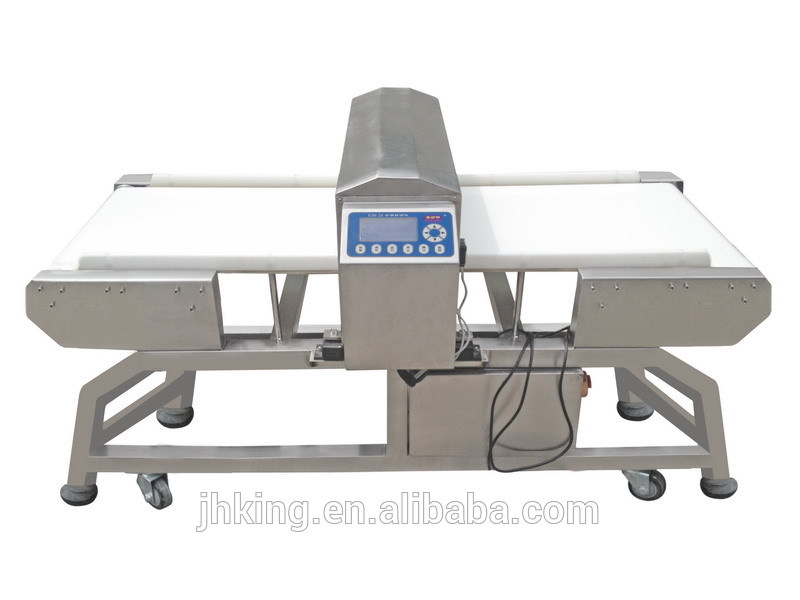 Product Packing
Factory